NEW STAND-ALONE NOVEL
by USA Today Bestselling Author, Chelle Bliss
Released on January 26th – LIVE

EVERYTHING CHANGED IN AN INSTANT.
I thought I knew what was important, but one phone call sent my life into a tailspin.
Alone and afraid, I cling to the one man I shouldn't.
I was warned about him and told to stay away. "He's dangerous," they said.
But the man who could hurt me the most, gave me the greatest comfort.
"He's not who they think," I told myself.
But just like an illusion, things are never what they seem.

MY REVIEW
Enshrine by Chelle Bliss
Bruno & Callie
HEARTBREAKING, EMOTIONAL, AND JUST RIGHT
5 Stars cause 10 is not an option!
Well, for starters, this book is amazeballs! This one is so off the charts it will put you into a tail spin and your soul in an uproar. I can't remember when I read a book so full of emotion that I had to put it down for a bit just to collect myself and my thoughts! Chelle has poured her heart and soul into this book and it shows. Don't mistake me, you WILL cry and you WILL gasp, but you most definitely will laugh your ass off as well.
Callie is such a powerful character. I am amazed at her strength and her wisdom. Staring down the barrel of a gun with a rough road ahead, she does exactly what I would have done. She closes in on herself. She shuts everyone and everything out. I believe she thinks if she acknowledges the "elephant" in the room that it'll crush her into a million tiny pieces and she'll never see the light of day again. Enter Bruno! The light at the end of the tunnel. I love this man!
Bruno is everything and nothing all at once. He's mysterious, he's uber hot, and his life couldn't be more complicating. He deals with his own demons, but finds the power to be what Callie needs. He brings so much depth to this story with his curious lifestyle and his temperamental ways. What once was a frightening, dark stranger has now become the driving force within himself and Callie. This man will make your day, your week, hell, even your year!
The supporting character cast is not small, but really not too big either. Lee, Bruno's sister is so damn cute. I just need this girl in my posse like NOW. I think she's just a little bit of a crutch to her brother right at the times he needs it the most. Knowing now what I know about her, she couldn't have come into Callie's life at a better time. As for the rest of Bruno's family, they effing rocked! Welcoming and warm! Funny and blunt. I loved them, but I always love Chelle's made up families… somehow they seem to make me want to be adopted by them. Now, Becca, Callie's bestie is such a doofis. I mean, she cares about Callie, but it seems most of the shit Becca did or said didn't help at all. I still loved her and her quirky ways!
This story will stain your soul forever. The pacing is medium to fast paced and keeps you turning pages before you even know it's 2AM and you've gotta be up at 4:30AM for work (True story). The characters are lovable and believable. They make this story so rich with love and laughter. The dialogue flows and feels very natural. Chelle doesn't tell you a story here, she shows you one. The tension created by this tale will lead you to the most exhilarating climax. I loved it and will be talking about this one for years to come.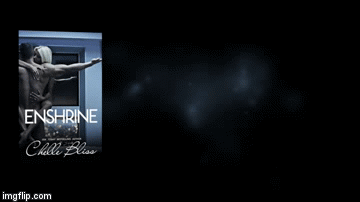 Available at the following retailers
Amazon | iBooks | Nook | Kobo | Google Play
ENSHRINE GIVEAWAY – OPEN INTERNATIONALLY
ABOUT THE AUTHOR
USA Today Bestselling author, Chelle Bliss, currently lives in a small town near the Gulf of Mexico in Florida. She's a full-time writer, time-waster extraordinaire, social media addict, and coffee fiend. She's written over ten books and has two series available. She loves spending her free time with her boyfriend, 2 cats, and her hamster.
Before becoming a writer, Chelle taught high school history for over ten years. She holds a master's degree in Instructional Technology and a bachelor's in history. Although history is her first love, writing has become her dream job and she can't imagine doing anything else.
FACEBOOK | NEWSLETTER | TWITTER | INSTAGRAM | WEBSITE
ALSO BY CHELLE BLISS
AMAZON | IBOOKS | NOOK | KOBO | GOOGLE | WEBSITE