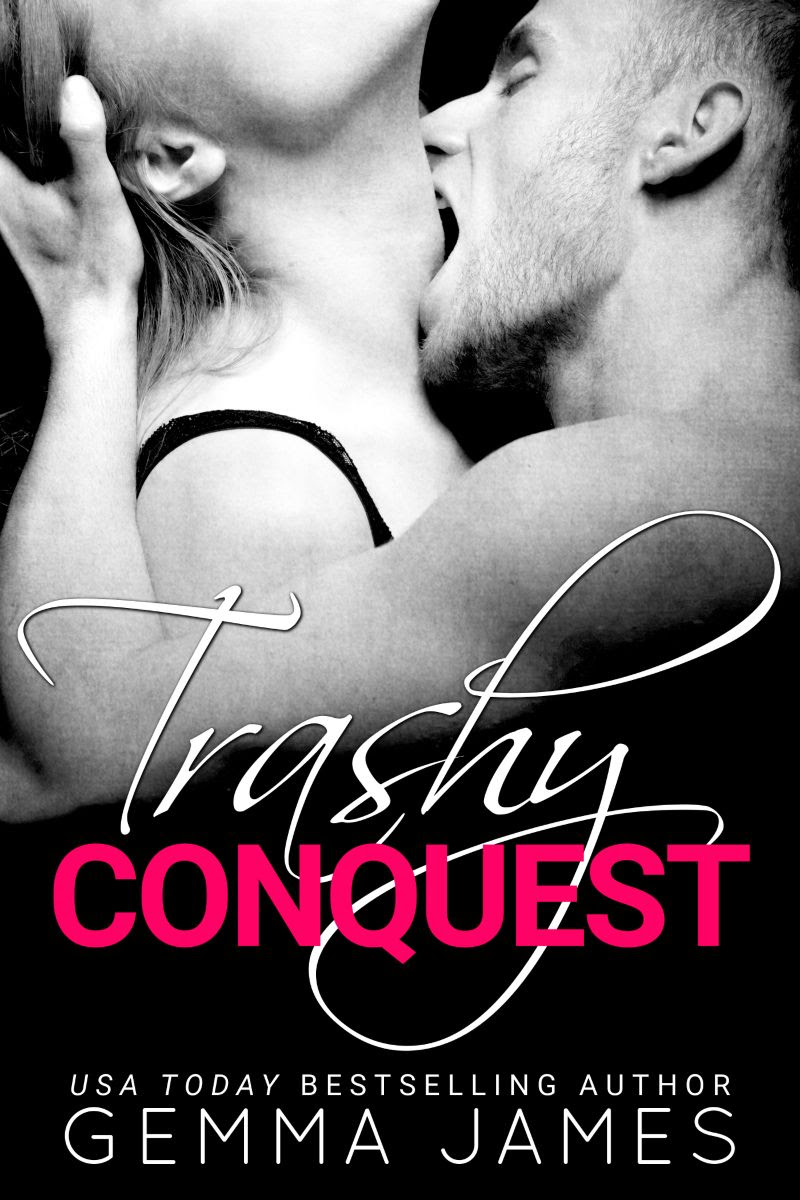 It all started 35,000 feet in the air on a flight bound for Seattle.
A chance encounter. An undeniable attraction. A forbidden passion. We tried to do the right thing and resist temptation.
We failed.
Now Cash's wife is missing, and to make matters worse, my ex showed up on my doorstep with the promise of forever on his mind.
Things were supposed to be different.
He was going to divorce her.
He was going to be with me.
He was going to love me.
But until Cash's wife is found, we have no future.
NOTE FROM THE AUTHOR: Trashy Conquest is a steamy romance suitable for mature audiences only. Though the subject matter deals with cheating, there are no innocent parties here. Book 2 in the Trashy Affair series.
Amazon US | UK | CA | AU | Nook | Kobo | iBooks | Google Play
MY REVIEW
Trashy Conquest by Gemma James
Cash & Jules
I AM IN LOVE WITH THESE CHARACTERS
5 Stars
And the plot thickens… and twists and turns before you can even catch your breath from the last one. If I'm being honest here, I must say that this story of love, betrayal, and disturbing acts had me at hello! I could not for the life of me put this shit down.
Jules is my girl! She's making her way in this great big world all on her own. She came across a tad bit frail in the first book, Trashy Foreplay, but I knew somewhere in that little body of hers was lion waiting to roar and roar she did.
Cash has a good heart! He knows exactly what he needs to do, but influences from the outside are making that especially difficult. Situations are looking bleak and his future not so great, but I have faith in him to come out on the other side a better man.
The supporting character cast was driving me crazy. So many back stabbers, people with their own agendas, and ones who you'd think would have your back, but only if you do what they want you to do. Ugh!
I was moved by this story, but then again it is a Gemma James story so need I say more? She gives you a love story, a complicated, fucked up, and almost impossible love story, but hell, I wouldn't have it any other way. I absolutely loved the characters, even the bad ones! The pacing is perfect, the storyline thick with suspense and action, and the climax will rock your socks off! Loved it Gemma, thanks for sharing your crazy stories with the world!!!
Gemma James is a USA Today and Amazon bestselling author of
a blend of genres, from new adult suspense to dark erotic romance. She loves to
explore the darker side of human nature in her fiction, and she's morbidly
curious about anything dark and edgy, from deviant sex to serial killers.
Readers have described her stories as being "not for the faint of heart."
She warns you to heed their words! Her playground isn't full of rainbows and
kittens, though she likes both. She lives in Oregon with her husband and their
four children–three rambunctious UFC/wrestling-loving boys and one girl who
steals everyone's attention.
Website | Twitter | Facebook | Goodreads | Amazon | Newsletter