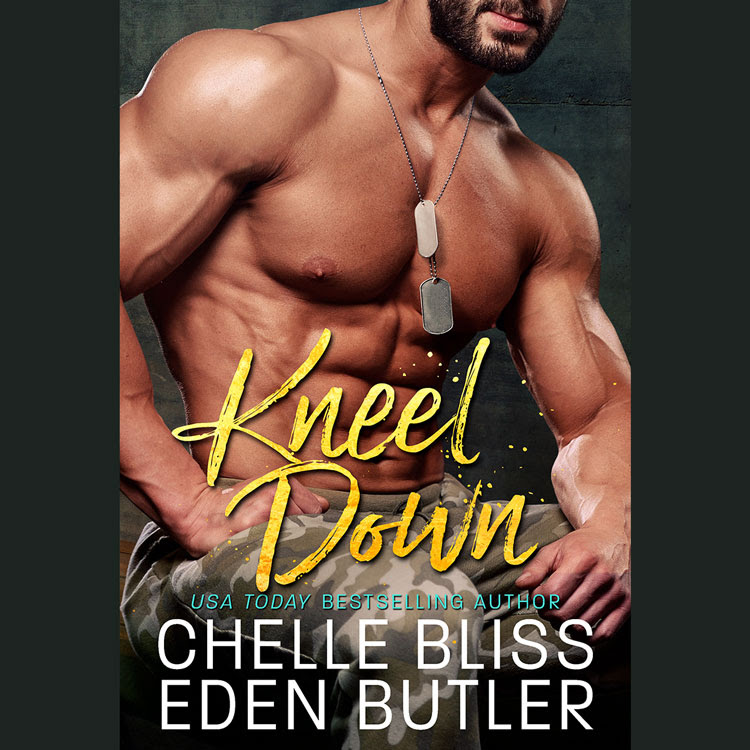 My job as a Navy SEAL was to go in and save the day. But even heroes fall. Even heroes make mistakes.
My only saving grace was Gin Sullivan. My knock out best friend who wasn't afraid to tell me the truth even when it hurt. She'd pick me up when I was wallowing in my own stupidity.
It wasn't hard for me to fall for her. Any man would. She was beautiful. She was smart. She was everything I'd ever wanted.

I had plans to tell her that, squash the pinning we'd both done for two years. But a bullet to the gut silenced me and Gin got tired of waiting.
Now I have a new mission, one that I can't fail: Do whatever it takes to make Gin mine forever.
COMING APRIL 23rd!
Preorder Available
CATCH UP WITH THE SERIES
NAILED DOWN
TIED DOWN
KNEEL DOWN
Want special sneak peeks and the latest information? Join Chelle's private
Facebook reader group. Plus, no one can see what we say in there… 😜
Website | Facebook | Newsletter | Twitter | Instagram
Eden Butler is an editor and writer of Contemporary Romance novels and the nine-times great-granddaughter of an honest-to-God English pirate. This could explain her affinity for rule breaking and rum.
When she's not writing or wondering about her possibly Jack Sparrowesque ancestor, Eden patiently waits for her Hogwarts letter, edits, reads and spends way too much time watching rugby, Doctor Who and New Orleans Saints footbalCl.
She is currently living under teenage rule alongside her husband in southeast Louisiana.
Please send help.
FACEBOOK | TWITTER | GOODREADS | AMAZON